Based on the story of same title by Sadallah Wanous (Syria)
Directed by Randa Maghaseeb as her Final Project of TDP's 3-Year Cirriculum
Sadallah Wanous wrote to criticize his audience and the  Syrian people for being slaves to dictators. In his original play, the Sultan and the Wazir are in conflict over power and the true leader of the land. Suspicious that the Wazir is sending messages to the outside world, The Sultan has all travellers thoroughly searched. Slave Jaber, in love with Zomorrod who is a servant of the Wazir, makes a deal. The Wazir will write a message on his shaven head, and when the hair grows back Slave Jaber will leave the country and deliver the message to the Sultans enemies. Unknow to Slave Jaber, the message also includes a note that once the message is read the slave is to be killed.  And he is.
The story of this play for TDP – in which young girls are acting – is a metaphor for another story: that of two older sisters fighting and hating each other and all their younger sisters trying to bring them together. The 2 older sisters are forced to play the Sultan and the Wazir in this story-telling play. And as we all know, when the powers at the top are fighting, the people don't stand a chance. 
The Actresses
Manal Qanette – Sister & Slave Jaber
Hiba Qudir – Sister & Zomorrod
Randa Abu Maghseeb – Older Sister & The Sultan
Hiba Shuhata – Second Older Sister & The Wazir
Rahma Al Masalha – Sister & A Minister
Manar Abu Kwaik  –  Sister & Guard 1 of the Mongol King
Sabreen Al Qurinawi  – Sister & A  Minister
Afnan Meaet  Mansour – Sister & Guard 2 of Mongol King
Doha Al Hindy  –  Sister & Bahloul The Mongol King
Hanaa Al Khaldi  –  Sister & A Guard
Director's Assistant-in-Training – Hiba Shuhata
Sets, Props, Costumes – The Gaza Theatre Team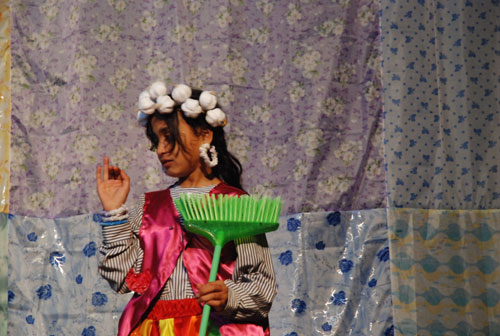 Artistic Supervision & Teachers
Jan Willems & Rafat Al Aydi & Mohammed Al Hissi & Jackie Lubeck
Administration
Randa Muhana,
Amal Abu Dawood,
Maryam Enaia,
Rawia Mushtaha,
Kamal Shublaq & Hadeel Sous & Francis Tams
Technical Team
Riyad Al Akhras,
Ahmad Qadada,
Ashraf Sarhan,
Mohammed Nofel
NOTE: Sets, props, and costumes, was a joint effort by the Gaza Theatre Staff.