#WAVE: women from Gaza to receive digital audiovisual training over the next 2 years.
Gaza, Palestine
Theatre Day Productions ( #TDP ) announces the launch of its Gender Equality initiative Women Audio Visual Education "WAVE"
The initiative is funded by @SabrinaHoUNESCO under #YouAreNext
WAVEaims to empower young women cultural entrepreneurs under the age of 40 (#U40) in the digital creative industries in the #Gaza_Strip in Palestine.
AboutWAVE
For longest time, in the Gaza community, the role of women is mostly limited by domestic life where women's role is to carry the load of a daily home routine. Women's participation in social life is constrained by stereotyped views of Gaza's male-led community. Cultural, artistic, and creative activities remain a taboo for the vast majority of girls and women.
As such, in 2013 TDP designed a special cultural program for Gaza women. The program consists of capacity building trainings through TDP's in-the-house audiovisual 3-year curriculum and its pertinent on-the-job trainings and activities.
Five years since we started the program, it still keeps its momentum: more and more women are interested to join TDP. However, women are trapped in the blockade, the siege of Gaza. With that, they cannot get out of the Gaza Strip to catch up with latest technology, and they certainly cannot take their stories out from behind the siege!
With the audiovisual world as the only possible outlet for those women, theWAVEinitiative intends to train at least 12 young women (age 18-40) by bringing them out of Gaza "virtually".
The 24-month initiative is a customized capacity building program for pioneer audiovisual women in Gaza. The structure of the program is dynamic and exciting, and supplies all the practical, creative and technical skills needed to succeed in the digital audiovisual culture landscape.  Specifically, the initiative intersects 3 key elements:
– Digital media with a good combination of technical and creative skills
– Drama and storytelling as means to boost creativity, personal, and entrepreneurial skills.
–  Entrepreneurial opportunities for 12 women from Gaza in the communities
As such, Theatre Day Productions is partnering with national, regional, and international audiovisual and digital media experts and organizations, as well as local NGOs and civil society organizations spread-out across the 5 governorates of the Gaza Strip.
The program, in its form, is based on joint community activities to inspire the participating women of entrepreneurial ideas.
This initiative falls under the United Nations 2030 Agenda for Sustainable Development, while giving a priority to Human Rights, Gender Equality, and the Empowerment of Women and Girls.
Guided by their visions – both Theatre Day Productions and UNESCO, with the support of Sabrina Ho – are addressing inequalities, narrowing the knowledge gaps between men and women in the cultural sector, and connecting the besieged Gaza to the rest of the world with digital means
Courses in AUDIO VISUAL for WOMEN and GIRLS (+16)
2018-2019
Girls (form 16 year up) and Women
Do you enjoy taking photos?
Making short films?
Telling stories?
Drawing?
Are you interested in improving you skills on social media?
Theatre Day Productions offers women and teenage girls an opportunity to try these different forms of (digital) expression.
We are looking for 30 women interested in:
Writing stories for social media
Interviewing interesting people
Doing interesting work or projects, making short films from smart phones, making short animations on smart phones
Taking photographs of nice things
Telling important, interesting or funny stories to others in public forum in a safe way.
You don't need experience in any of these fields. All you need is a serious interest, a curiosity, and the ability to commit to the program.
Duration of the training: one year, between June 2018 & May 2019. The training will be in separate weeks, and a lot of the work can be done at home.
Expectation of the training: gain skills mentioned in the training application (question no. 6)
Every woman, girl, teenager who is interested in the training, please fill the application and send it to the e-mail addresses mentioned at the end of the form. Deadline of submission is Saturday, 23 June 2018.
Watch
"From the Wings" – click here
March 6 & 7
Performance of "Black Lights," the next new play in a series of of women's story-telling performances, on this year's occasion of International Women's Day. Also, an exhibition of women fine artists. Time is starting for the women of Gaza. 
BREAKING THE GAZA ISOLATION – LIVE STREAM OF "WHIRLWIND" FROM GAZA TO AMSTERDAM
March 5 @ 17:00, TDP is live-streaming the play from our Gaza theatre – filled with university students in audience – to an audience of artists and intellectuals in the well known youth theatre De Krakeling in Amsterdam. A technically questionable feat, all means have to been taken a smooth performance, sub-titled, live, and breaking the isolation of Gaza.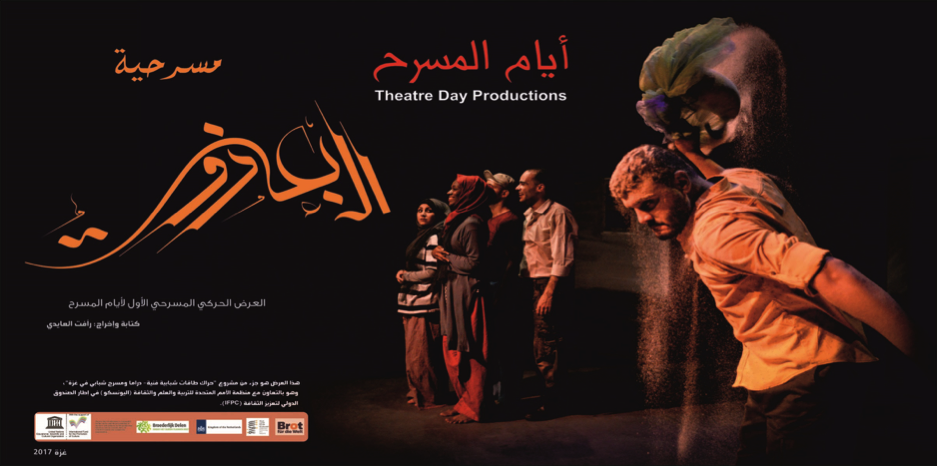 A FULL PROGRAM IN DECEMBER
"Whirlwind" (a dance theatre production for audiences 12 to adult)
1 Dec – 20 Dec, @ 14:00
Performances in the hall of TDP Theatre
"Live Your Day" (a play made by kids for their peers in school, great fun)
1 Dec – 12 Dec, @ 12:00
Performances in the theatre at Beit Hanoun School
Free Expression Workshop Presentations
Dec 11 – Dec 14, @ 12:00
Drama scenes and video animation cartoons conclude this round of 3-week workshops.
They are in different schools throughout the Gaza Strip so you need to call us.
Artistic Stations 3 – This is the 3rd joint event of Gaza partners of the Palestinian Performing Arts Network (PPAN)
Dec 7 & Dec 10, @ 9:00 A.M. – 20:00
Workshops, performances, discussions, school events, and stage events bring the performing artists in Gaza today for two days of theatre, music, circus, and dance.
October 31, November 1-2 
TDP's Annual Drama & Animation Festival
Oct. 31, Nov. 1-2, TDP opens it's doors to the schools in North Gaza who have been working on 9 drama workshops and final scenes and 6 video animation cartoons. This year, the kids are working on the theme of EMOTIONS. Joy, Sad, Disgust, Fear, Anger. For 3 days come visit the theatre from 14:00 on have a look, meet the team, enjoy a coffee, see our work. Welcome.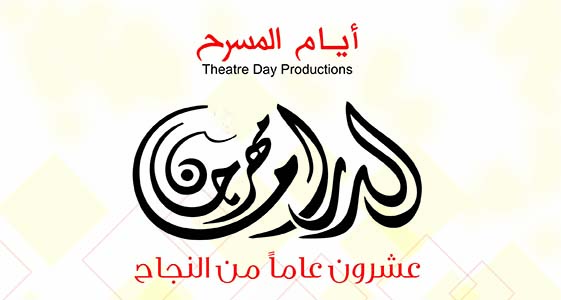 October 12-25, 2107 
WELCOME BACK LEO
Film-maker Leo van Emden (Amsterdam) is back in Gaza giving a two week workshop in being better at whatever you do. Leo will be working with our young people and the sense of sight in how to look at – and capture in film – the ideas behind the work of TDP. We are looking to capture the heart of TDP and it's many activities and to share it with all who are interested. Leo is in Gaza as part of our project with Unesco.
October 25, 2017
In partnership with UNESCO, Theatre Day Productions threw a public event  (on September 25, 2017) for and with youth in Gaza. It was our participation in the UN International Youth Day campaign run NET-MED Youth. Theatre Day Productions' movement presentation "IDENTITY" was the heart of the event. The performance was followed by the open debate session. The audience of young men and women exchanged their opinions about the performance and the main theme of the campaign "Youth Making Peace". NET-MED youth groups brought the event on the social media platforms. For more, see this video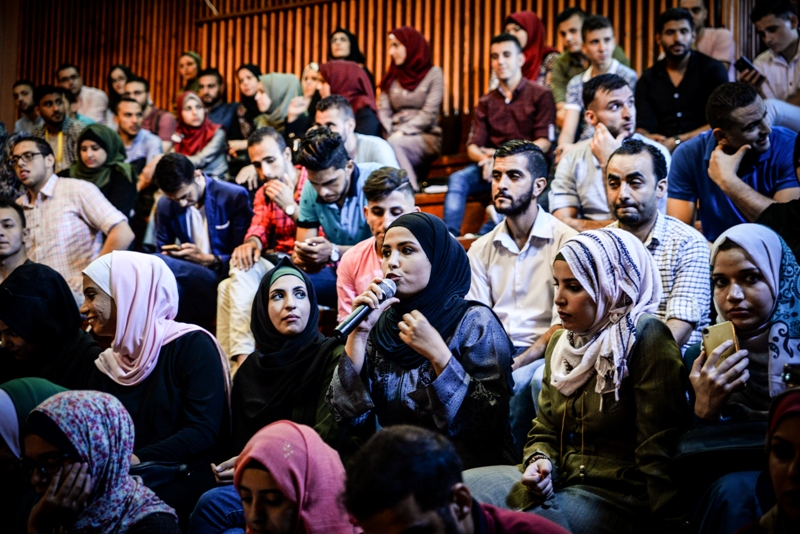 2017 – Male dancers of "Identity" in Gaza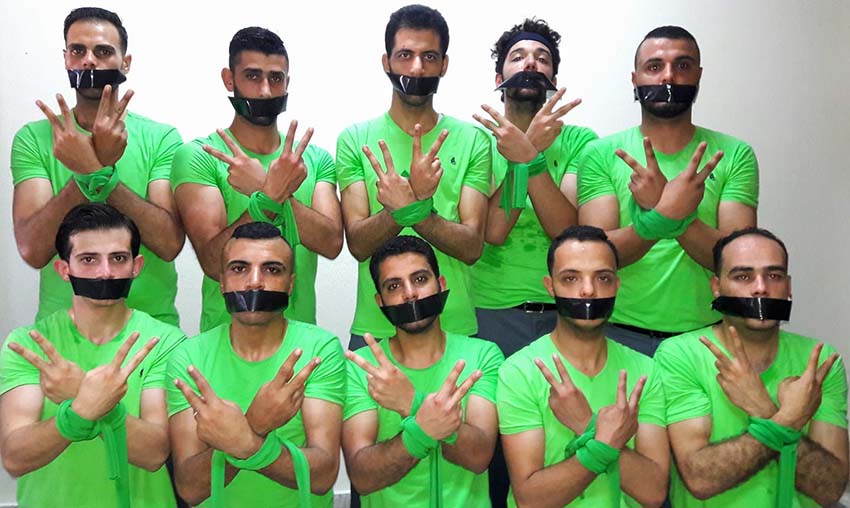 International Guest Teachers in Gaza – April – May 2017
Now in Gaza – Choreographers Royston Maldoon (U.K.) and Megs Byrne (IE) are  preparing for TDP's newest piece, a movement play called "Identity." With 20 actors/dancers, Royston and Megs have been working from April, teaching, rehearsing, and soon to open in the theatre in Gaza.
2015 – Ten Ways to Us – A cooperation with 34 Dutch Theatre Organisations
Ten plays were made following the war of 2014 in TDP directors were mentored by Dutch directors on a project aiming to introduce Gaza in a totally new light. Read about it.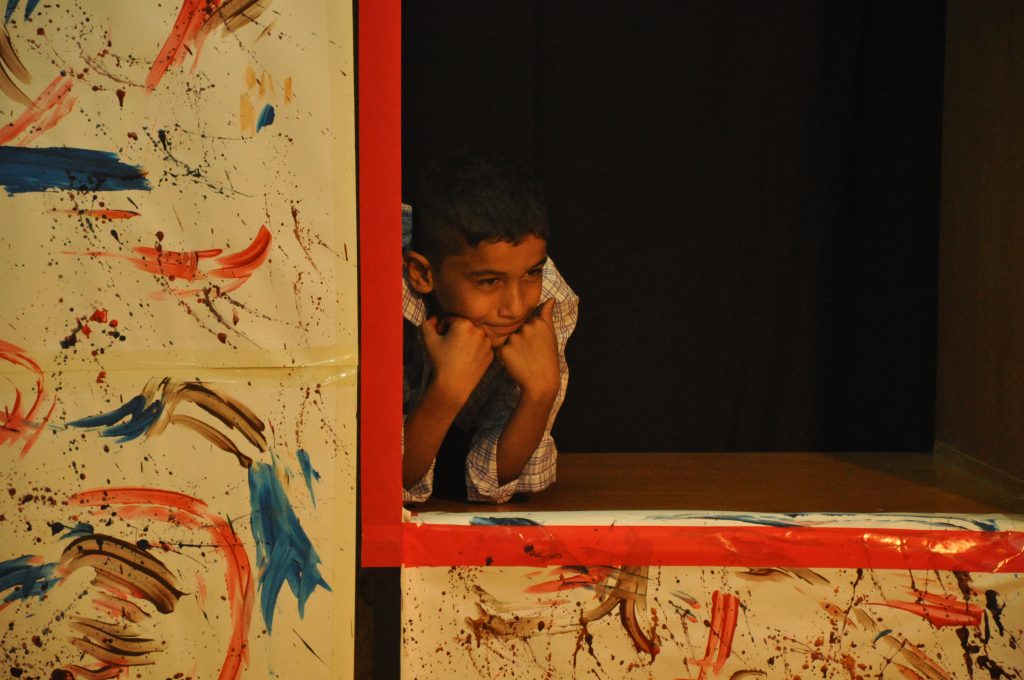 International Theatre Day Award – March 27, 2017
On the occasion of International Theatre Day  Mr. Jan Willems and Ms Jackie Lubeck of TDP were honored by the General Union of the Palestinian Artists for their contribution in establishing and enriching the theatre movement in Palestine.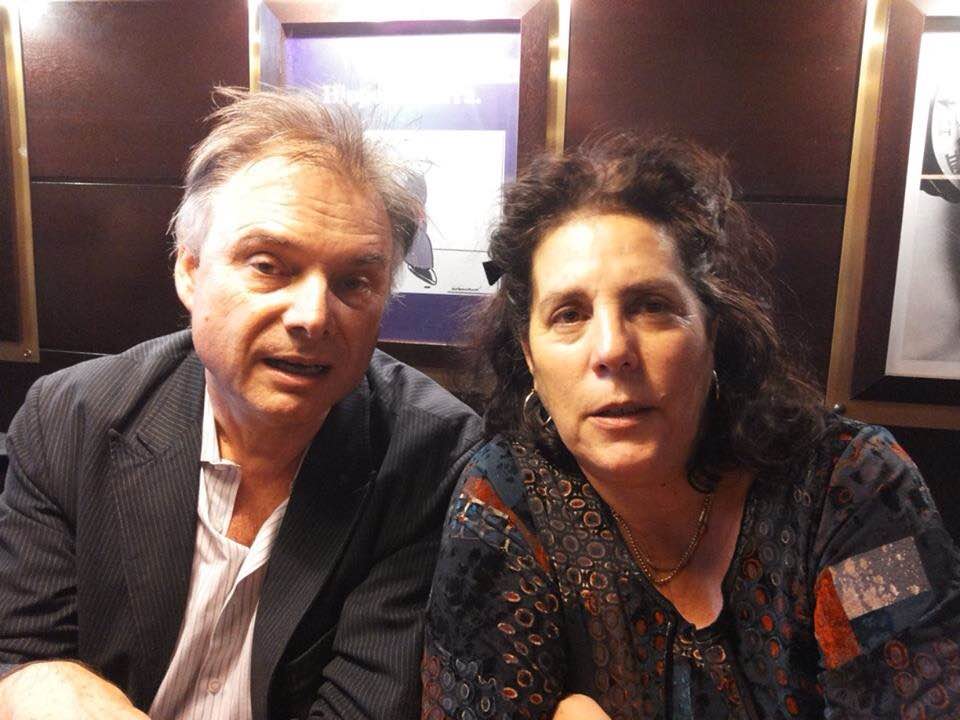 2015 – TDP 20 Years Working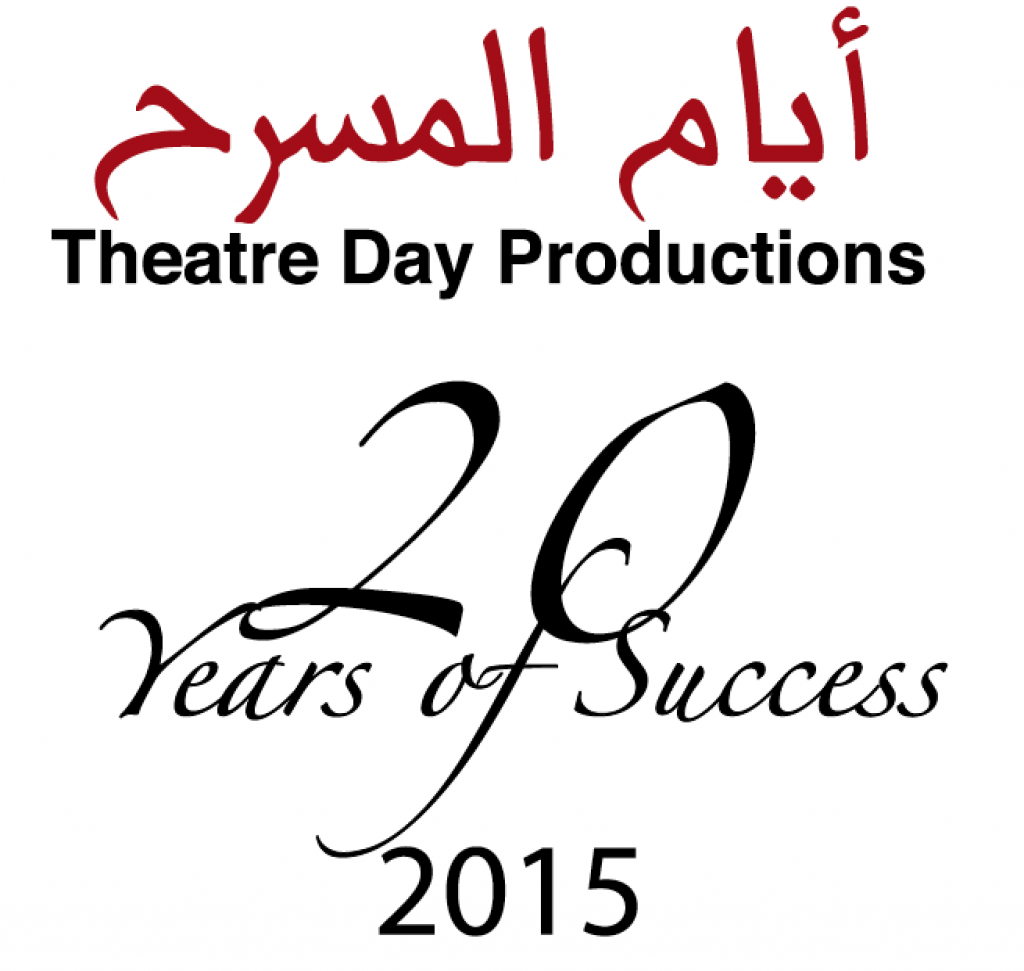 TDP Wins Stars Foundation Impact Award – Press Release 
International Tour of "The Game" – 2008
In 2008, TDP tried the impossible: to get 7 actors out of out Gaza for a tour in the Netherlands and Belgium of the play "The Game."  This is the story that some things really are impossible. Read.
Jan Willems of TDP wins the Anna Lindh Award "Women and Men Hand in Hand for Gender Equality" in 2007 – Read
Walking Boy in Gaza 2002
Created and performed in Hebron
Recreated and performed throughout Gaza. Read!