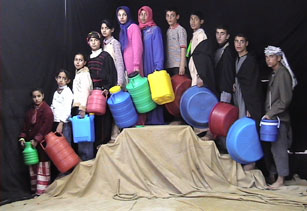 It's enough that you want…
Willpower exists inside each one of us…
Kick fear from inside you…
Can we?
We can!
Turn willpower into action…
Before it grows old in you…
Many times you find excuses to strangle it…
Thinking that you will be saved…
No thirst…
There… in the deserted well…
The children of the camp set their willpower free…
… without fear…
They defended the morning chants….
… without thirst…
Only because they want…
The Kids in "The Deserted Well" come from 4 schools – all in the middle region of the Gaza in the city of Deir Al Balah. The kids are a mixed age group of 11-17. This is their first experience in making and touring a theatre play. They have been rehearsing for 3 months.
The Actors in the Play
Mohammed Shqura
Amneh Afaneh
Ahbad Al Abeth
Asmaa Al Hosh
Zeinab Joudeh
Israa Afaneh
Fatmi Nashabat
Mohammed Yousef
Thaer Al Abeth
Muataz Al Abeth
Shifaa Al Hosh
Duha Abu Nimer
The Team
Directed by Mohammed Abu Kweik
Written by Farhan Bulbul
Assistant Director – Mohammed Shushaa
Sound Technician – Ahmad Qadada
Production Assistant – Mohammed Nofal
Gaza Artistic Leader – Rafat Al Aydeh
Gaza Manager – Mervat Hafez
Administration Assistant – Randa Muhanna
Artistic Director – Jan Willems
In cooperation with The Society for Social & Cultural Development