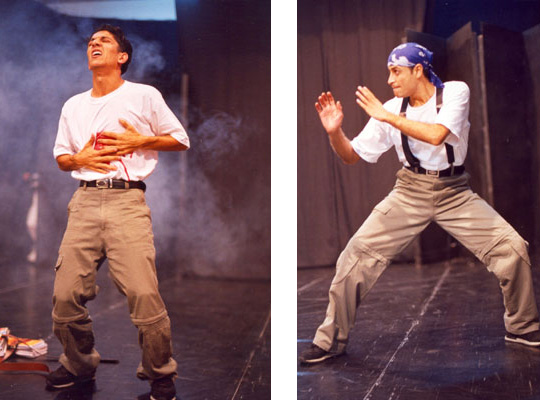 "The Walking Boy" was first made in Hebron in 2001. The reaction to the play by both students and teachers was great… over 100 performances in Hebron and Halhoul… we reached every high-school in the region.
How could we get the show to Gaza? We couldn't bring the Hebron team there like we did in 2000 with The Other Half.
What we could do was…
To make the play again…
With Gaza actors…
And that's what happened…!
"The Walking Boy" is just about that… a boy walking to school one day… and the sadly familiar shot that comes out of nowhere… Our boy, like all young people, has something special about him, something unique, and it is this that the play is about.
Again, the reaction was enormous… 115 performances throughout the Gaza Strip (Gaza, Rafah, Khan Yunis).
With slight changes from the original, especially the "translation" from Hebron to Gaza dialect, the Gaza Team was able to open the show after 5 weeks of rehearsals. Bravo!
The Actors
Baha Eliazji – Omar
Rafat Al Aydeh – Majed
Mohammed Shashaa – Abu Sultan
Nahed Hanouna – Grandfather, Stepmother, & Father
Rassem Shamiyya – Driver
Mahmoud Oudeh – Newsman
Directed by Jan Willems
Written by Jackie Lubeck
Technician – Ibrahim Masarii
Translator for the Director – Mervat Hafez
Assistant to the Director – Ziad Nasrallah
Abu Sultan's Coat Made by Hiba Shalouf
General Manager – Amer Khalil
Gaza Administration – Mervat Hafez
Jerusalem Administration – Pauline Nunu