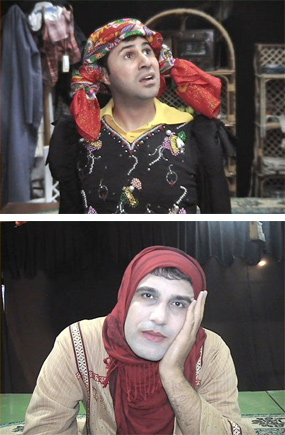 Im Abed & Her Children was originally made by the Hebron actors. After hours of improvising (and tears of laughter), we opened the show. Everyone loved it; however, we couldn't perform it for schools because of the subject – LOVE.
Six years later, in Gaza, and after some slight adjustments we finally introduced Im Abed's family to the students of Gaza. It was so well received that we doubled our tour schedule.
The story of the play is simple. Everyone is simply in love with someone.
The Cast & Crew
Yusri Al Mughari – Im Abed
Mohammed Abu Kweik – Raeda
Mohammed Al Hissi – Mohammed
Baha Eliazji – Abed
Mohammed Abu Tuk – Jabara
Directed by Rafat Al Aydeh (TDP Gaza Artistic Leader)
Written by Jackie Lubeck & Yousef Tartouri
 (based on improvisations by Ihab Zahdeh, Mohammed Titi, Raed Shioukhi, Marwan Tartouri, & Khalil Shethafan; Opening September 2, 1999 in Hebron.)
Sets & Costumes & Technical Supervision – Ahmad Qadada & Mohammed Nofal
Gaza Management 
Mervat Hafez & Randa Muhanna
Artistic Supervisor 
 Jan Willems