Summer Fun Weeks – 2015
After reading a poem called "Thirteen Ways of Looking at a Blackbird" by Wallace Stevens, Jackie Lubeck came up with the idea of "Ten Ways to Know Us" which is a research on how Palestinian kids and drama teachers, and directors, would like to talk about Palestine from ten different points of view. Ten themes were chosen and were worked into scenes for a project of the same name (See "Ten Ways to Know Us." For the summer games of 2015, we turned six of the scenes into plays which were shown to 150,000 school children throughout the summer. The plays are (1) "Three Birds" (2) "Snow Trip" (3) "One Thousand Questions (4) "The Boys Who Can't Sit Still" (5) "Between the Sea and the Desert" and (6) The Boys in the Mirror
The Snow Trip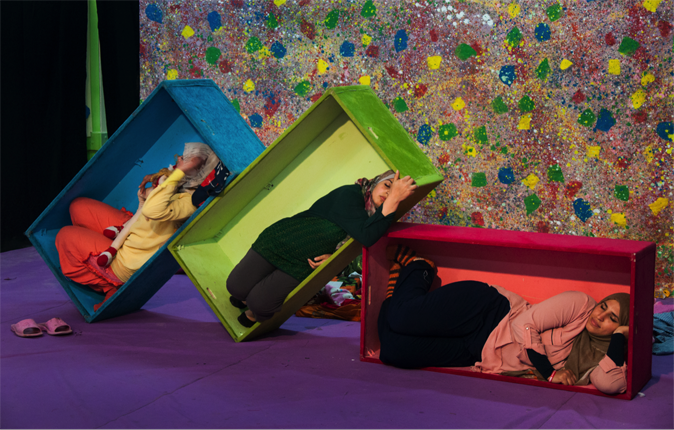 In the upside down bedroom of three sisters, Adan , the oldest at 15, tries to keep the sisterly peace as the girls straighten their room. The provocative 12 year-old is Sida is the middle sister whose goal is to taunt, tease, and annoy those who give her reason. Then there is Hind, a smart, determined, loud, opinionated 5 year old girl who knows all. When Hind learns that the family has received permits to go to a wedding in Jerusalem, she refuses the idea. In her mind, the snow in Jerusalem has killed everyone and there is nothing there anymore. Her interest grows as she hears stories of 4 brides and 4 grooms, new clothing, and large white cakes. Reluctantly, Hind agrees to participate in the trip only to face the reality of borders, permits, the siege, and giant wall that surrounds her birthplace.
Written by Jackie Lubeck
Directed by Ali Muhanna & Manal Barakat
The Actresses
The play was made by 4 groups of women actresses performing simultaneously in different locations.
Group 1 – Etaf Abu Namous, Faiza Al Telbani, Maryam Al Ostaz, Feda' Kherais
Group 2 – Manal Barakat, Sirin Al Jabali, Hadeel Masoud, Khitam Abu Kwaik
Group 3 – Najla' Al Sawawin, Sahar Mahdi, Hana' Al Ghoul, Rana Abu Dawoud
Group 4 – Sally Abu Shaaban, Elham, Abu Shanab, Azza Al Nahhal
TDP Production
Artistic Supervision and Direction – Rafat Al Aydeh, Mohammed Al Hissi & Jan Willems
Administration – Amal Abu Dawood, Rami Hijjo, Maryam Enaia, Tania Mourtaja, Doaa Abo Abdo, Rania Shawwa, Henriette Araman, Anan Terhi, & Francis Tams
Technicians – Riyad Al Akras, Ahmad Qadada, Ashraf Sirhan, & Mohsein Abu El Kheer