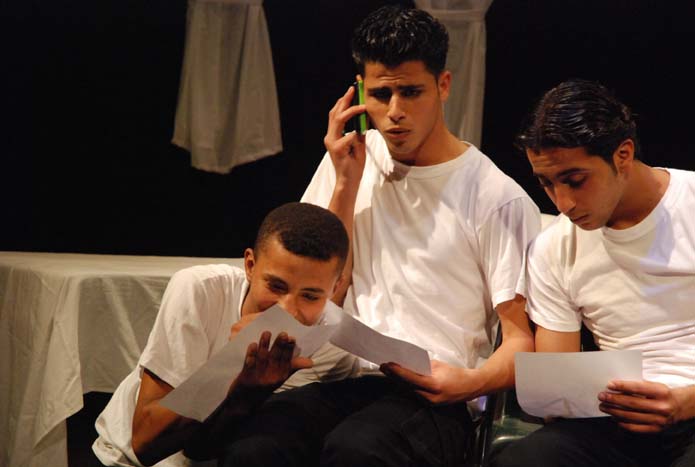 Something is in the cupboard. We want to open it. Whatever is in there wants to come out. It is trying to come out. Listen. There is a knock knock. We have to help.   We have to try to open it. Something important is in the cupboard. Knock knock. Come out. Listen. Do you hear them? They say they are trying to be heard but no one is listening. It must be something really important. We are going to get them out. Come on.
"Knock Knock" is about 4 boys who cannot get to their stories and dreams. They want to share their stories with the world but it seems no one is listening to them.
Everyone has stories to share and we want to hear them!
The Players
Yousef Abo Tyour
Mohammed Hamto
Ghassan Qarmout
Ahmad Alayyan
Mohammed Hajjaj
Ali Nama
Omar Masri
Mahmoud Mbeid
Mahmoud Khalil
Ahmad Hijazi
Mohammed Hanouna
Omar Abu Jabal
Mohammed Badwan
Riyad Jarada

Directed by Mohammed El Hissi
Text – Improvised by the Players
Assistant: Fawzi Abu Zanad
Technical & Production
Riyad Akhras , Ahmed Qadada,  Mohammed Nofal
Management
Randa Muhanna, Amal Abu Daoud, Maryam Inaya (Gaza)
Amer Khalil, Jackie Lubeck,  Nancy Shourati, Dina Zbidat, Francis Tams (Jerusalem)
Artistic Supervision
Rafat Aydi  & Jan Willems
In Cooperation with the Middle East Council of Churches