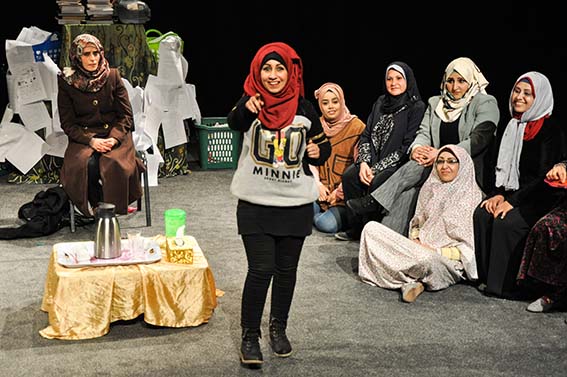 NOTE: The word "mukhtar" refers to an Arab arbitrator, a man who is known by the community where he lives and works, and who is called upon to solve problems that arise between people. When there is a problem between two families or two sides, they go to the "mukhtar" who will listen to all side and give his opinion on what should happen. All sides will respect his decision as if he were a judge. The feminine form of the word is "muktarah" and as yet, as far as we know, there are no women arbitrators with this kind of power.
In "250 Signatures," we meet Khitam, a mother on a quest to become a "mukhartah." She is already known by a growing number of women in Gaza as the female voice who can help in difficult problems. In the play, we meet 10 of these women, of differing ages and social situations. Their stories differ and include divorce, jealousy, domestic violence, unfair marriage, problems with neighbors, and all together we discover a new depth to the situation of women living in the Gaza of today.
The play suggests a change of the social rule where women, instead of men, solve problems of an intimate or sensitive nature, problems that women are shy to speak about in the presence of men.
To get the title of "muktarah," Khitam will needs 250 signatures from among the "mukhtars."
In "250 Signatures," we hear real stories of real women, turned into theatre with its comedy, tragedy, music, satire, and the beauty that only 10 women can bring to a stage.
Created and Directed by Mohammed Al Hissi – based on the stories
Assistant Director: Wissam Al Derawi
The Storytellers
Ola Salem
Manal Barakat
Maryam Al Ostaz
Reem Anbar
Randa Abu Maghseeb
Hana Abdel Nabi
Hind Abu Hasaneen
Khitam Abu Kwaik
Haneen Aziza
Sabreen Shaat
Administration: Ibrahim Abu Shawareb, Amal Abu Dawood, Maryam Enaia, Doaa Abu Abdo, Rania Al Shawa, Tania Mourtaja, and with the help of Henriette Araman & Francis Tams
Technical Team: Riyad Al Akhrass, Ahmed Qadada, Ashraf Sirhan, & Muhsen Abu El Kheer, AbdallahMghari
Artistic Supervision: Jan Willems, Rafat Al Aydi, & Jackie Lubeck