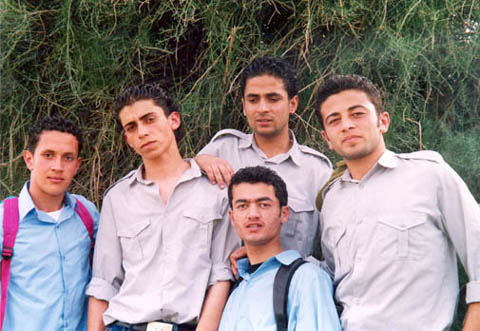 … a story of a street… In one of the refugee camps… One of the everyday stories we hear…  Every one has his story… Every story has its story… And we listen… To stories within stories within stories…
Salah carries a burden. 
Ramadan has a secret. 
Subhi can't find love. 
Abbas is in dreamland.
Shaker needs to grow up fast.
"Back Street Stories" was originally made in 1999 with a group of TDP actors in training, among them Yusri Al Mughari who now directs the play with young people. The 1999 play was based on 1999 stories. Yusri, with another five youth found new stories in 2004… Only to discover that they weren't so different from the first set. The stories repeat themselves… Every day… Every week… Every month…Every year… Every 20 years… 30… 40… 50…
About the Team
We started with a training workshop to hear the stories of eight youth came from the Deir Al Balah Refugee Camp. We found out that their stories are very much similar to the stories of another group worked on the same play five years ago. Their age is between 18 and 20 years old. Their interest in theatre began last year when a few of them participated in a drama workshop that took place in the camp. Liking the work, each one brought a friend along and, in a meeting in a café on the beach in Deir Al Balah, they decided that they wanted to make plays.
The Team
Salah – Saidi Joudeh
Abbas – Mahmoud Al Naji
Shaker – Hamza Al Bhaisi
Subhi – Wissam Abu Aisheh
Ramadan – Munzer Al Naji
Written by Jackie Lubeck
Directed by Yusri Al Mughari
Sets & Costumes by Yusri Al Mughari
Assistant Director – Wissam Al Najji
Technician – Ahmad Qadada
Gaza Administration – Mervat Hafez
Administrative Assistant – Randa Muhanna
Jerusalem Administration – Pauline Nunu
Supervising Directors 
Jan Willems – Amer Khalil – Jackie Lubeck